20 tph industrial steam boiler price
Part 1:General introduction
1. Boiler capacity:1 ton to 40 ton
2.Stem pressure:1.0Mpa(10bar),1.25Mpa(13bar), 1.6Mpa(16bar), 2.5Mpa(25bar)
3.Steam temperature output:184C,194C,204C,225C.
4.Suitale fuel: biomass, wood pellet,peanut, paddy, rice husk, solid fuel,etc
5.Structure: water tube, big cyclone room
6. Application:food industry, chemical industry, textile industry, garment industry, Pharmaceutical industry,dyeing industry,beverage industry,paper industry,rice mill,etc.
II.Part two:Boiler advantages
1. National Scientific and Technological Progress Second Prize
2. Singapore New Product Expo Golden Lion Award
3. With special fuel hopper and fuel discharge device.
4.Three pass boiler. The smoke go through three phase, making the boiler have higher heat transfer efficiency and lower smoke temperature emissed.
5.The hearth is designed with a cyclone reburning chamber, which makes the boiler energy saving, high combustion efficiency and environmental friendly.
6.Special air distribution design.
7.The hearth has large volume and strong fuel adaptability, it can use various biomasses as the fuel.The big size furnace can be well adapted to biomass's feature of high flame.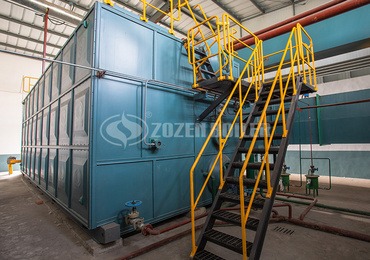 The size of some most common biomass fuel:
(1).Biomass/wood pellets:≤Φ10×30 mm
(2).Wood chips:≤100×50×50 mm
(3).Sawdust:≤20×20×10 mm
8.The arch is specially designed accordign to the fuel.
9.Design of preventing fouling, slagging and corrosion of heating area.
10. It has a double-drum offset hearth (D-type layout) with furnace in the right side of the boiler and two drums in the left side of the boiler, the structure is very compact.