DHX Coal Fired CFB Hot Water Boiler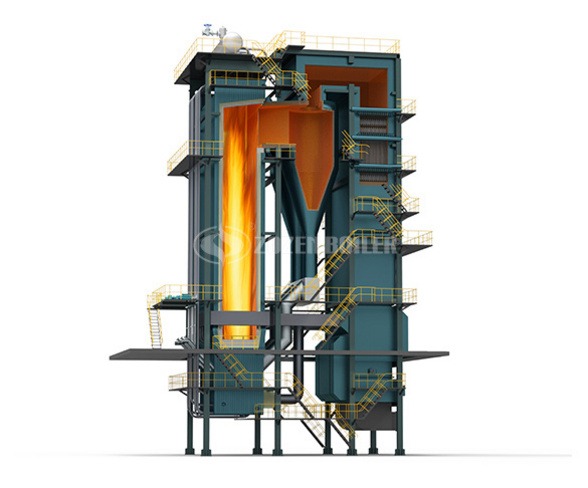 Product thermal capacity: 58-116 MW
Working pressure: 1.25-1.6 MPA
Available fuel:Coal, gangue, biomass, waste, sludge
Available industries:Centralized heating
Coal Fired CFB Hot Water Boiler Introduction
CFB combustion technology is a kind of clean coal burning technology. Today, with the increasingly strong environmental protection calls, coal burning technology is constantly moving towards clean combustion and energy saving. The DHX series coal fired CFB hot water boiler produced by Zozen boilers is an energy-saving product with safer and more reliable operation and better environmental protection performance. This series of coal fired boiler has many advantages such as energy saving, power saving, high efficiency and low wear.
High temperature cyclone separator
High efficiency, wear resistance, separation efficiency ≥ 98%, effectively improve the combustion efficiency of the boiler thermal efficiency.
Large furnace design
Large furnace, low velocity design; the application of wearproof tube technology, reducing erosive abrasion;Extend the residence time of coal particles in the furnace so that the coal can be fully burned.
Bell jar type hood
Adopt bell type hood to distribute air averagely and avoid fuel reverse to wind chamber.
Low bed pressure operation
By particle optimization, the operating bed pressure can be decreased to 3500 Pa, which effectively saves operating costs and greatly reduces the oxynitride generated.
Coal Fired CFB Hot Water Boiler Advantage
High combustion efficiency
The fuel particles are circulated and burned, increasing the residence time in the furnace and greatly improving the combustion efficiency.
Wide fuel adaptability
The boiler can burn a variety of coal such as bituminous coal, lignite, anthracite, etc., and can also burn biomass fuel such as bark and garbage, and has wide fuel adaptability.
Low pollution emissions
DHX series circulating fluidized bed boiler can obtain desulfurization rate of up to 80%-90% under appropriate calcium-sulfur ratio and limestone particle size. At the same time, the optimized grading low-temperature combustion technology is adopted, SOx, NOx original generation amount is small, and pollution emission is low.
Coal Fired CFB Hot Water Boiler Specification
| | | | | |
| --- | --- | --- | --- | --- |
| Model | Rated thermal power(MW) | Rated working pressure(MPa) | Rated output water(℃) | Rated imported water temperature(℃) |
| QXX58-1.25/130/70-AⅡ | 58 | 1.25 | 130 | 70 |
| QXX70-1.6/150/90-AⅡ | 70 | 1.6 | 150 | 90 |
| QXX91-1.6/150/90-AⅡ | 91 | 1.6 | 150 | 90 |
| QXX116-1.6/150/90-AⅡ | 116 | 1.6 | 150 | 90 |