DZL Series Biomass Fired Hot Water Boiler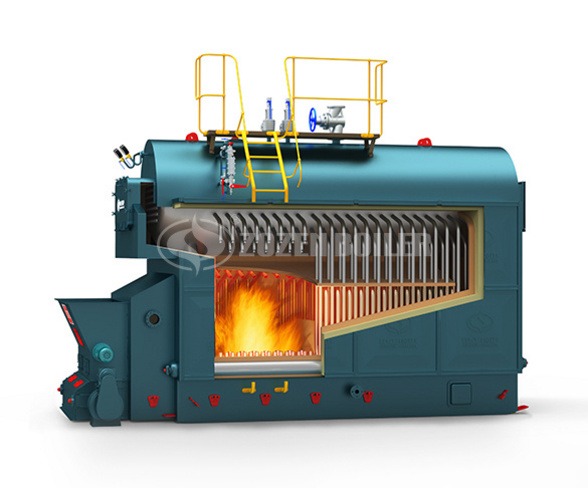 Product thermal capacity:1.4 – 14 MW
Working pressure:1.0-1.6MPA
Available fuel:Available fuel: Biomass molding granules, wood chip, corn cob, palm shell
Available industries:Heating, hotels, schools, hospitals
DZL Series Hot Water Boiler Introduction
DZL series package boiler is a horizontal three-pass water and fire pipe chain grate boiler, which uses medium-sized bituminous coal. The industry boiler body is vertical single drum, and the threaded pyrotechnic tube is arranged in the drum to form a convection heating surface, and the drum and the water walls on both sides constitute a radiation heating surface of the furnace. The combustion equipment uses light chain grate, the whole package is finished in the factory. The electric control makes the governor stepless speed regulation, the limit parameter alarm and the interlock protection.
Biomass Fired Hot Water Boiler Advantages
Manufacturing exquisite workmanship
DZL series coal fired boiler body processing equipment is advanced, exquisite workmanship, guarantee boiler quality;
The key machining processes such as steel plate blanking, circle circle and tube plate drilling all adopt advanced CNC machining technology to reduce assembly stress and extend boiler service life;
The vertical and circumferential seam welding of the boiler adopts advanced submerged arc automatic welding technology to ensure the welding quality;
In the country, the arched tube sheet and the threaded pipe structure were taken first to increase the heat conduction, which completely solved the problem of cracking of the rear tube sheet;
Steel pipe cutting, threaded pipe pressing and convection pipe processing adopt advanced numerical control technology.
Environmental protection and energy saving
Graded air supply, special furnace arch structure, NOx emissions as low as 100mg/m3.
In cooperation with Shanghai Jiaotong University, the domestic and international biomass (such as: rice husk, wood xiao, palm shell, cotton citrus, etc.) are tested for combustion, and the thermal efficiency can reach over 88%.
Safe and worry free
All longitudinal and circumferential seam welds are subjected to 100% radiographic inspection to eliminate unqualified welds.
The chain grate is manufactured by our factory and tested for 72 hours before leaving the factory to ensure that the tightness of the grate is moderate and not biased.
Seven process stop points were set up, and the seven different responsible divisions were separately checked. If any one failed, they could not proceed to the next process.
Auxiliary configuration
Conveyor: Conveyor, evenly feeding, preventing tempering.
Speed ​​control box: According to the biomass burning rate, design a reasonable speed to ensure fuel burnout.
Access door: Reasonable manhole and hand hole arrangement, convenient maintenance; the furnace is equipped with an access door for easy maintenance and maintenance.
Biomass Fired Hot Water Boiler Specification
Model
Rated thermal power(t/h/MW)
Working pressure(MPa)
Rated output water temperature(℃)
Return water temperature(℃)
Maximum transport size(m)
(L×W×H)
DZL1.4-0.7/95-70-AⅡ
1.4
0.7
95
70
5.7×2.5×3.5
DZL2.8-0.7/95/70-AⅡ
2.8
0.7
95
70
6.3×2.6×3.6
DZL4.2-1.0/115/70-AⅡ
4.2
1
115
70
7.3×3.2×3.6
DZL7-1.0/115/70-AⅡ
7
1
115
70
7.2×3.3×3.6
DZL10.5-1.0/115/70-AⅡ
10.5
1
115
70
8.8×3.7×3.7
DZL14-1.0/115/70-AⅡ
14
1
115
70
9.7×3.4×3.7