DZL Series Biomass Fired Steam Boiler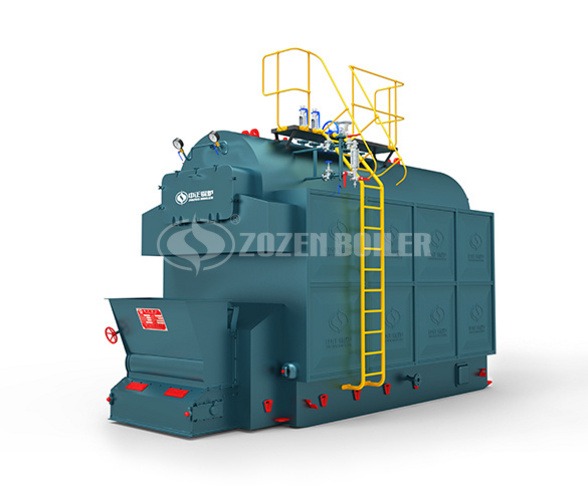 Product thermal capacity: 2 – 20t/h
Working pressure:1.0-2.5 MPA
Available fuel:Biomass particles (Rice husk, straw, coffee husk, sawdust, bagasse, etc.)
Available industries:Heating, chemical, food, tobacco, textile, printing and dyeing, feed, medicine, building material, wine, rubber, hospital
DZL Series Biomass Fired Steam Boiler Introduction
DZL series quick-load boiler is a horizontal three-return water and fire pipe chain grate boiler. The boiler body is arranged in a longitudinal direction of a single drum, and a threaded pyrotechnic tube is arranged in the drum to form a convection heating surface, and the drum and the water wall on both sides constitute a furnace heating surface. The burning equipment adopts a light chain grate. Electrical control realizes stepless speed regulation of the grate, limit parameter alarm and interlock protection.
Biomass Fired Steam Boiler Advantage
The type of boiler is horizontal fast installed water and fire tube boiler and working fluid natural circulation.
The heat exchange system of the boiler is composed of a drum, a left and right header and a water wall.
The main heating surface is water wall of the furnace, and part of the drum and convection tube bundles in the drum.
This product is made up of five parts: boiler main body, flue gas duct, economizer, dust collector, pipeline system.
The first four parts have been manufactured in the factory, and can be transported to the installation site for assembly, which can greatly shorten the installation cycle and ensure the quality of product installation.
The boiler is mainly made of seamless steel tubes with low medium pressure boiler tubes.
The boiler is made of special steel plate for boiler.  The left and right header boxes are made of seamless steel tubes.
Boiler arch is made of refractory concrete. Its rear arch is low and long, so it is well burning.
The two wing flue and side wall brick adopt refractory sintered brick. The general refractory bricks are used for the front wall and the back wall of the boiler.
The distribution of the grate is reasonable, the combustion chamber is large, and the applicability of the coal is strong. It is suitable for all kinds of bituminous coal or anthracite and mixed coal. Full combustion. Because the high temperature flue gas first enters the settling chamber, and then enters the two wings flue and the front smoke box from both sides, the smoke and dust removal effect is good.
The water circulation is simple, the structure of the compressed parts is reasonable, and it can run safely under the condition of ensuring the water quality.
The combustion equipment is fast installed grate. The combustion equipment is manufactured and installed in the factory, and transported directly to the site after being transported to the site. It has a reasonable structure, compact, low steel consumption, so that the boiler performance, weight, structural size compared with the same capacity of domestic products with obvious advancement.
DZL Series Biomass Steam Boiler Specification
Model
Rated thermal power(t/h/MW)
Rated working pressure(MPa)
Steam temperature/Rated output water temperature(℃)
Thermal efficiency(%)
Maximum transport size(m)
(L×W×H)
DZL2-1.25-M
2/1.4
1.25
194
88%
5.7×2.5×3.5
DZL2-1.57-M
2/1.4
1.57
204
88%
5.7×2.5×3.5
DZL2-2.45-M
2/1.4
2.45
225
88%
5.7×2.5×3.5
DZL4-1.25-M
4/2.8
1.25
194
88%
6.6×2.6×3.6
DZL4-1.57-M
4/2.8
1.57
204
88%
6.6×2.6×3.6
DZL4-2.45-M
4/2.8
2.45
225
88%
6.6×2.6×3.6
DZL6-1.25-M
6/4.2
1.25
194
88%
7.3×3.2×3.6
DZL6-1.60-M
6/4.2
1.6
204
88%
7.3×3.2×3.6
DZL10-1.25-M
10/7
1.25
194
88%
customized size
DZL10-1.60-M
10/7
1.6
205
88%
customized size
DZL15-1.25-M
15/10.5
1.25
194
88%
customized size
DZL15-1.60-M
15/10.5
1.6
205
88%
customized size
DZL20-1.25-M
20/14
1.25
194
88%
customized size
DZL20-1.60-M
20/14
1.6
205
88%
customized size