How a Fire Tube Boiler Works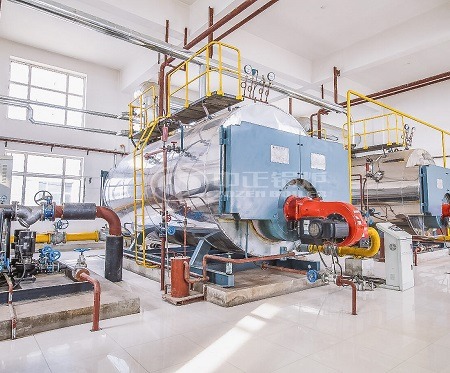 Product Structure: horizontal
Product Use: industrial boiler
Installation Method: quick installation boiler
Boiler Introduction: The fire tube boiler has a remarkable energy saving effect, with a thermal efficiency of 98%. The furnace type is a horizontal, wet-back fire tube boiler with a condensing energy saver outside.
Fire Tube Boiler Description
The fire tube boiler body, front smoke box, outsourcing insulation, ladder platform and base are all assembled and assembled and shipped. This series of boiler condensing economizers, valves and meters, burners, control equipment and other auxiliary components are pre-installed in the factory and then dismantled and assembled on the user site. The heating surface in the boiler drum is mainly divided into three heat exchange parts: the corrugated furnace bladder, the recombustion chamber, and the flue pipe. The boiler is a fast-installed internal combustion three-pass fire tube boiler. Adopting the offset furnace liner wet back structure, the high-temperature flue gas washes the second and third return flue pipes in sequence, and then passes through the chimney from the rear flue chamber to the atmosphere.
Fire tube steam boiler is a fully automatic, safe and efficient heating equipment. This oil/gas fired boiler quick-installed internal combustion three-pass fire tube boiler has compact structure, small volume, strong load adaptability, and low water quality requirements. The boiler adopts the wet back structure of the furnace, which has the characteristics of high temperature resistance, good sealing, large radiant heat transfer area, and high heat transfer efficiency. WNS series boilers are widely used in industrial production and processing, such as textile industry, pharmaceutical industry, food and beverage industry, chemical industry, clothing industry, paper industry, wood industry, etc., and can also be used for central heating of enterprises, hotels, hospitals, and civil buildings.
Main Features of Fire Tube Boiler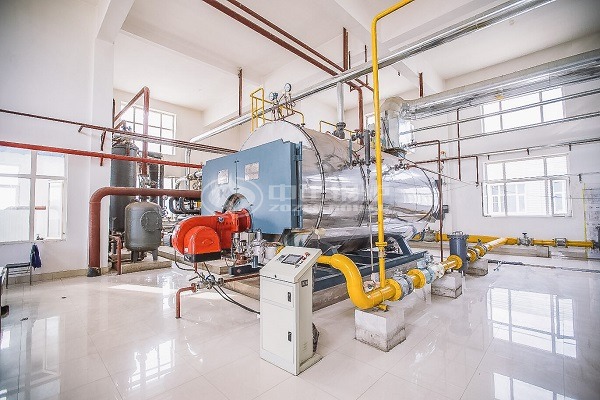 The flue gas process generally adopts a three-pass arrangement, a full butt-welded wet back structure, the furnace bladder is a corrugated tube, and the convection area adopts an optimized combination of threaded and smooth tubes. The flue gas process is long and the heat transfer effect is good.
It adopts advanced burners, which can be equipped with domestic burners or foreign burners. At present, many manufacturers are equipped with burners produced in Germany, France, Italy and other countries. The combustion technology is advanced and perfect, with fast start and stop, low fuel consumption, high thermal efficiency, soot and NOX emissions can meet national standards and regulations.
Equipped with a complete automatic control device to realize automatic control and protection of the boiler drum water level, steam pressure, combustion, etc., to ensure the safe and stable operation of the boiler.
This series of boiler products adopt a combined quick-installation structure, with compact and reasonable layout, light weight, small footprint, simple and quick installation, and convenient maintenance.
The boiler auxiliary equipment is complete. In addition to the burner, control cabinet and chimney, the auxiliary equipment of the oil supply and water supply system can be configured as a complete set according to user requirements.
According to user requirements, the boiler can use fuel oil, such as light oil, heavy oil or residual oil, as well as various types of gas, such as natural gas, artificial gas, and liquefied petroleum gas. It is also possible to use two fuels at the same time or use the two fuels interchangeably. According to different requirements, different burners can be configured.
Fire Tube Boiler Details
The fire tube boiler is a boiler product developed by our company technology. All products of this furnace type are assembled and shipped to ensure that the boiler can be quickly installed on the user site. Except for water supply, gas supply and electrical connection accessories, no other The building structure and special installation procedures have undergone a series of inspection and debugging work before the boiler leaves the factory to ensure the quality of the boiler.
The Zozen Boilers R&D team continues to explore and practice, combining ultra-low nitrogen combustion technology with WNS boiler manufacturing technology. A key breakthrough was achieved in the two core technologies of staged combustion and FGR flue gas recirculation. Thus developed a classic horizontal internal combustion low-nitrogen boiler. NOX emission can reach 26mg/m3, which meets and exceeds the national environmental protection requirements.
Fire Tube Boiler Product Parameter
Boiler Model
WNS1
WNS2
WNS4
WNS6
WNS10
WNS15
WNS20
Rated Evaporation(t/h)
1
2
4
6
10
15
20
Water Capacity(m³)
2.9
4.7
9.6
13
17.7
25.61
36
Transport Size(mm)
3000*1650*2100
3920*2000*2424
4500*2260*2630
6550*2500*2896
7100*2800*3170
7550*3340*3575
8600*3700*3800
Shipping Weight(t)
3.6
6.8
8.6
16.2
21
27.7
50.31
Rated Steam Pressure (Mpa)
1.0,1.25,1.6
Rated Steam Temperature(℃)
184,194,204
Thermal Efficiency
>98%
1Ton Steam Fuel Consumption
Diesel
60-65kg/h
Natural Gas
70-80m³
Remark
1. According to the requirements of smoke exhaust temperature and NOX emission, special programs can be provided;

2. ZOZEN's products are constantly innovating and improving, the above parameters may change, and the final data shall be subject to the drawings.