1. 4 tons and 6 tons of biomass boilers are sent to Vietnam for beverage production. This furnace type belongs to the SZL series and adopts a double-barrel vertical arrangement.
SZL series biomass boiler adopts double boiler design. The two boilers are arranged above and below, and a secondary air inlet system is provided to evenly distribute heat and reasonably arrange the heating surface. The boiler furnace has large space, sufficient output, high thermal efficiency, energy saving effect, energy saving of 5-10%, and low operating cost.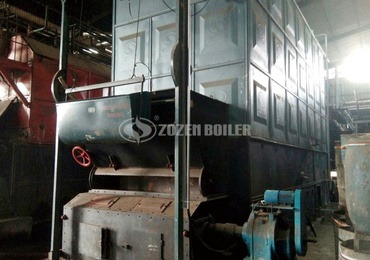 2. Hubei Zhongkai Chemical Medicine 4 ton biomass boiler, DZL single pot layout, high thermal efficiency and good energy saving effect.
The DZL series biomass boiler belongs to the water-fire tube structure. The fire tube is the smoke tube, which belongs to the smoke path, and the water tube belongs to the water path. The two tubes have complementary functions to form the flue gas circulation and water circulation of the boiler system. The boiler is installed quickly and leaves the factory, with fast heating and boosting speed, high thermal efficiency, and is widely welcomed by users.
3. Price introduction of biomass boiler
The price of biomass boilers is composed of the main boiler and the auxiliary machinery. The configuration varies and the boiler prices vary.
Biomass boiler auxiliary machines include: control cabinets, blowers, induced draft fans, water pumps, chimneys, water treatment equipment, economizers, feeders, slag dischargers, etc., different configurations and different boiler prices.