10 Tons Automatic Condensing Gas Steam Boiler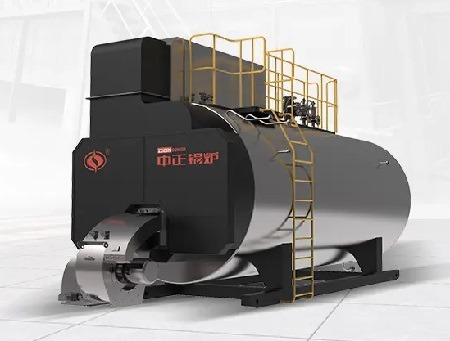 Boiler Capacity: 10 Tons
Design Thermal Efficiency: 98%
Applicable Fuel: natural gas, coke oven gas, biogas, liquid propane gas, etc.
Application Scope: central heating, heating
Product Introduction: Condensing gas fired boiler truly achieves clean combustion, emission, convenient operation, and sufficient output.
Description of Condensing Gas Fired Boiler
The automatic gas fired steam boiler is a horizontal quick-installed internal combustion three-pass fire tube pot. Employing a wet-backed structure of the offset furnace bladder, the high-temperature flue gas is sequentially scoured and the third return flue pipe, and then discharged into the atmosphere from the back flue chamber through the chimney. The boiler is equipped with movable front and rear smoke box covers to make the boiler maintenance convenient. The condensed gas steam boiler is equipped with industrial burners with good technical performance. It adopts automatic combustion proportional adjustment, automatic water supply adjustment, program start and stop, automatic operation and other technologies. It also has high and low water level alarms and very low water level, steam pressure, flameout and other automatic Protective function. This type of boiler products has the characteristics of compact structure, easy operation, rapid installation, less pollution, and low noise.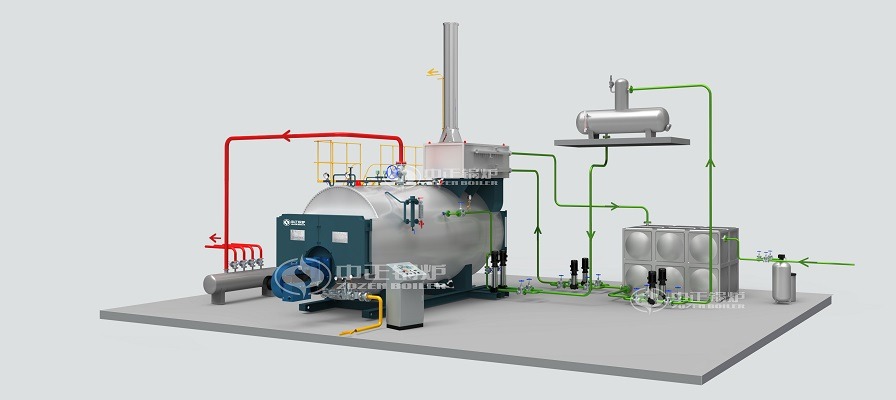 Operation Principle of Condensing Gas Boiler
The working principle of a condensing gas boiler is to recover the heat in the hot flue gas (usually around 140°C) discharged after the boiler is burned through a certain device, and the recovered flue gas temperature is only about 60°C, so the thermal efficiency is probably improved. If it is about 10%, it will naturally save about 10% of the gas. At the same time, in the energy recovery process, it can also reduce the emission of harmful gases and reduce environmental pollution.
The condensing gas-fired steam boiler adopts the integrated design of body, energy saver, and condenser. The heat energy is used in steps, the exhaust gas temperature is extremely low, and the thermal efficiency is as high as 99%. The energy saver and the condenser have built-in steel-aluminum composite fin tubes arranged in countercurrent to enhance heat transfer. Compared with ordinary furnaces, this series of gas fired boilers will discharge NOx and other harmful substances in the flue gas with the condensed water during the condensation process of the flue gas water vapor of this series of boilers, realizing energy saving and emission reduction.
Advantages of Condensing Gas Boiler
Environmental protection: The measured minimum NOX emission is 20mg/m³, which meets the most stringent national environmental protection standards;
Energy saving: the measured steam consumption of 1 ton is less than 60m³, which is far lower than the industry data;
Over 100,000 cooperation projects have been reached, and field investigations are available!
Condensing Steam Boiler Characteristics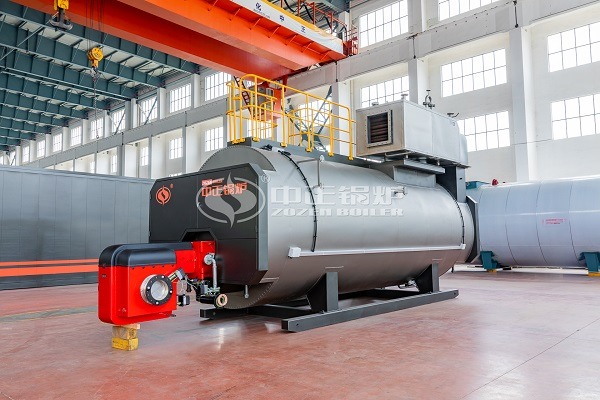 The 10 ton condensing steam boiler has obvious advantages in structure. The addition of a bipolar condensing device at the rear can effectively improve the efficiency of the boiler. The boiler is delivered as a whole and has the characteristics of low nitrogen, high efficiency, energy saving, intelligence and beauty. In terms of energy saving, the product adopts finned tube stainless steel atmospheric condenser and finned tube type ND steel pressure energy saver, which can increase efficiency by 7.5% and 5.5%. In terms of control technology, the use of frequency conversion proportional adjustment feed water and frequency conversion proportional adjustment combustion technology can ensure better operating efficiency of the boiler. In terms of combustion technology, technologies such as flame segmentation and combustion gas recirculation are incorporated into traditional combustion methods. It achieves low emissions of nitrogen oxides. Since the condensing gas-fired steam boiler products were put on the market, they have been stable and reliable in operation, with ideal energy-saving effects, and have been widely recognized by the market.
Product Features of Condensing Steam Boiler
High thermal efficiency: adopts an integrated structure of energy saver, condenser and boiler, fully absorbs the preheating of flue gas emission and latent heat of gasification, and the thermal efficiency is more than 10% higher than that of ordinary furnaces;
Low exhaust gas temperature: the three-dimensional design of economizer and condenser, using high-efficiency heat transfer and corrosion-resistant materials, the exhaust gas temperature can reach 60%-90%;
Energy saving and environmental protection: The flue gas rotary combustion technology is used to fully burn the fuel, which saves about 10% of fuel compared with ordinary furnaces, and the harmful gas emissions meet the relevant national standards;
Adopt high-quality aluminum silicate thermal insulation material and double-sealed structure, with good thermal insulation and sealing performance;
Fully automatic intelligent control can realize unattended remote monitoring.
Customers in Use