2 ton steam boiler Basic introduction:
The WNS type oil fired gas (methanol) boiler is a horizontal fast installed three way fire tube steam boiler with internal combustion. The wet back structure of the bias furnace is adopted. The high-temperature flue gas successively washes the second and third way flue gas pipes, and then the flue gas is discharged into the atmosphere through the chimney. The boiler is equipped with a movable front and rear flue gas box cover, which makes the maintenance of the boiler convenient. The boiler is equipped with a burner with good technical performance and adopts automatic combustion proportional regulation, The boiler is characterized by compact structure, safety and reliability, simple operation, quick installation, less pollution, low noise and high efficiency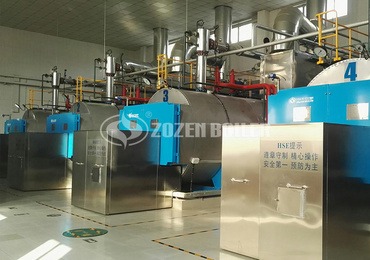 Main features:
1. The overall structure of gas-fired steam boiler is reasonable, compact and belongs to the boiler island type, which meets the conditions of quick installation. The product is composed of three parts when leaving the factory. The main engine, chimney and pipeline system of the boiler, of which the main engine and chimney have been manufactured in the factory, and the pipeline valve and instrument matched with the main engine have been installed randomly, The main engine and chimney can be assembled after being transported to the site. The commissioning can be carried out after the air source, power supply and water pipeline are connected on the site. The installation cycle is greatly shortened and the product quality can be guaranteed
2. The design performance of the boiler is advanced. The main body of the boiler is an integral structure. The burner is installed on the front cover of the smoke box. The main body is mainly arranged with the heating surface and the combustion chamber. It has reasonable and compact structure, low steel consumption, offset wave shaped furnace tank, new light heat insulation material for the insulation layer, color sheet for the outer packaging, and cuboid for the shape packaging, The boiler performance, weight, structure size and appearance are obviously advanced and beautiful compared with the same capacity products in China. The boiler feed water equipment is arranged on the boiler base on the right side of the boiler, so that it is integrated with the main engine without any other foundation.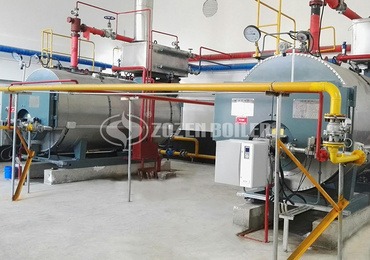 3. The water circulation is simple, the structure of pressure parts is reasonable, and it can operate safely under the condition of ensuring water quality
4. Complete auxiliary equipment and advanced comprehensive technical performance